"We Put The Trick In The Trompe Of Trompe L'Oeil"
Details And Close-Ups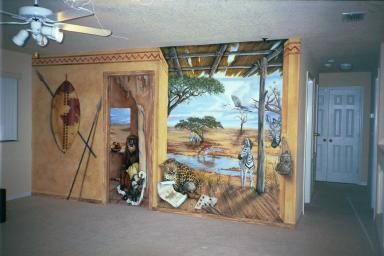 Recap..."The Witness To The Crime"
Only the Baby Zebra knows what really happen, to the artist and during the painting of this mural.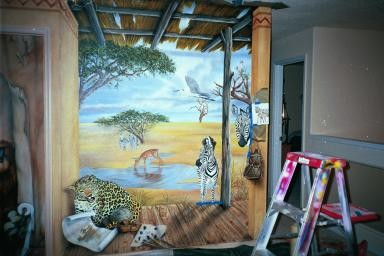 The Leopard, Licking his lips...poor us.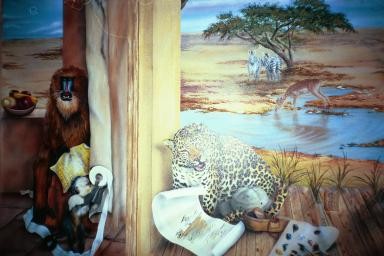 The resident Mandrill caught on the "john" reading the paper...and that little stinker stealing his T. P.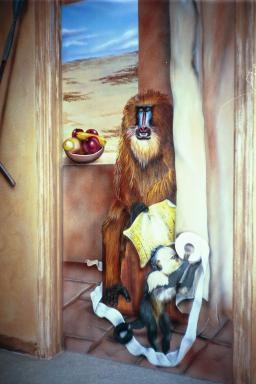 The conviently placed bowl of fruit to hide the door knob.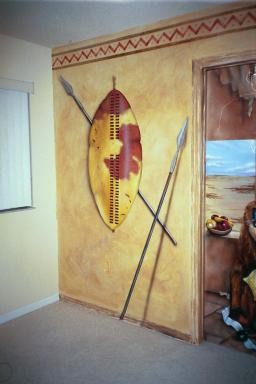 And the Trompe L'Oeil Zula shield and spear against the wall.
---
Art Effects' Home
| ||
Site Contents
| ||
Contact Us
Paper 'Plique
| ||
Trompe L'Oeil
| ||
Murals
Hand Painted Furniture
| ||
Theme Rooms
| ||
Wall Textures
Faux Finishes
| ||
The African Mural
| ||
Special Links
Leopard Key
| ||
BUBBLES
| ||
Garage Doors
Step by Steps and How To's

An Artist | || Textured Stencil | || Faux Fossil Rock
Marble On A Ceiling | || In The Back Yard | || Wyomissing
Our Message Board | || How to Break a Wall
Please visit the internet's most frequented faux painting and murals message board!
---
Vote for Art Effects at Top-25.com
Copyright 2002 Art Effects. All Rights Reserved.
Questions? Comments? Suggestions? Email the webmaster