"We Put The Trick In The Trompe Of Trompe L'Oeil"
Fifth Steps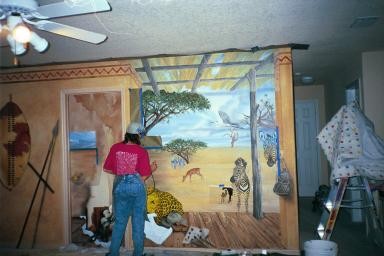 Got to finish the ground and distant background before we add the detail to the animals.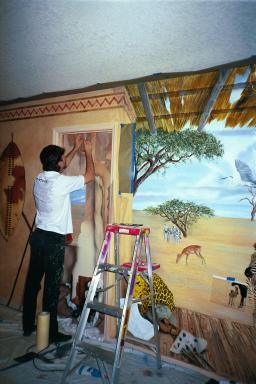 Here Tim is taping up the canvas door to add the rips and tears, once again taping up gives our work a crisp and "tight" look.
Fine highlights were added to the torn canvas with a small brush.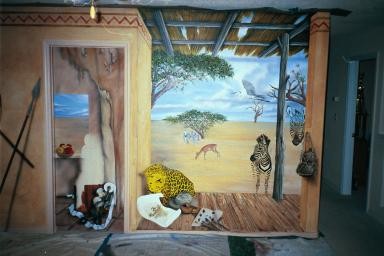 That baby zebra is still keeping a watchful eye on the process of this mural.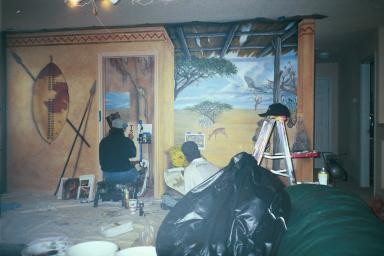 Still working on the Leopard and now the Mandrill (who got caught with his pants down)
---
Art Effects' Home
| ||
Site Contents
| ||
Contact Us
Paper 'Plique
| ||
Trompe L'Oeil
| ||
Murals
Hand Painted Furniture
| ||
Theme Rooms
| ||
Wall Textures
Faux Finishes
| ||
The African Mural
| ||
Special Links
Leopard Key
| ||
BUBBLES
| ||
Garage Doors
Step by Steps and How To's

An Artist | || Textured Stencil | || Faux Fossil Rock
Marble On A Ceiling | || In The Back Yard | || Wyomissing
Our Message Board | || How to Break a Wall
Please visit the internet's most frequented faux painting and murals message board!
---
Vote for Art Effects at Top-25.com
Copyright 2002 Art Effects. All Rights Reserved.
Questions? Comments? Suggestions? Email the webmaster