"We Put The Trick In The Trompe Of Trompe L'Oeil"

How To Break A Wall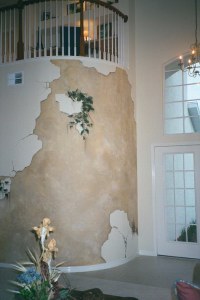 PROBLEM: What to do with his odd wall in the entrance.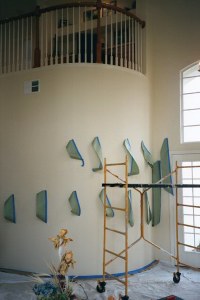 Begin...Saturday morning (12:00 pm, "artist hours")
We started by applying clear vinyl tape in the area we were focusing on.
This clear vinyl tape can be bought at most walk-in sign shops.
If they do not have it in stock they can order it for you.
All in all it is not that expensive and comes in quite handy.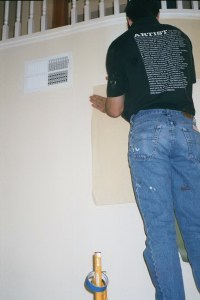 So we are going to make the existing wall
look like it has been applied over an aged wall.
Now that the tape is in the area we need it.
With a grease pencil Tim draws the broken wall pattern.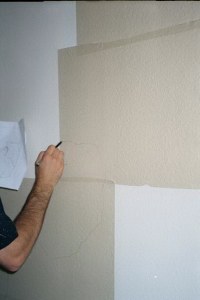 After drawing we used a razor knife to cut the break-away
After it is cut, we peeled the excess tape off and the shape was there,
and the existing wall we didn't want to paint was protected.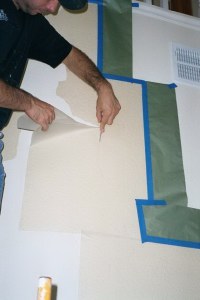 The shape of things to come.
We applied a multi- colored wash and distressed faux
with coordinating colors from the room.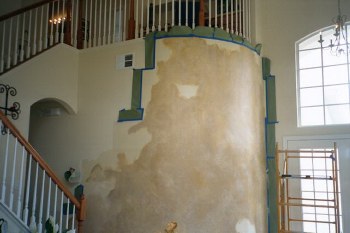 Now Tim used and Airbrush to shade the broken wall...
the tape is still in place to protect the existing wall
( painting without a net...we didn't have any touch up paint)
After airbrushing the shadows, we added highlights with a brush.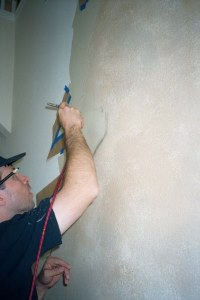 For an extra added Trompe L'Oeil effect,
I painted some Ivy draped over some of the broke pieces.
Finished by 5:30 pm
Just a little something in the corner.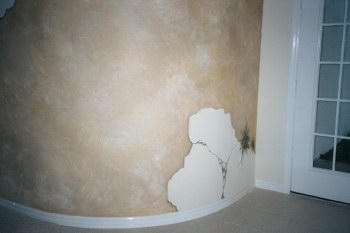 Click Below for More Examples Of Break Aways And Peel Aways
---
Art Effects' Home
| ||
Site Contents
| ||
Contact Us
An Artist
| ||
Trompe L'Oeil
| ||
Murals
Hand Painted Furniture
| ||
Children's Rooms
| ||
Theme Rooms
Wall Textures
| ||
Faux Finishes
Wildlife Murals
| ||
BUBBLES
Special Links
Step by Steps and How To's

Paper 'Plique | || The African Mural
Textured Stencil | || Faux Fossil Rock
Marble On A Ceiling | || In The Back Yard | || Wyomissing
How to Break a Wall | || Our Message Board
Please visit the internet's most frequented faux painting and murals message board!
---
Vote for Art Effects at Top-25.com
Copyright 2002 Art Effects. All Rights Reserved.
Questions? Comments? Suggestions? Email the
webmaster