"We Put The Trick In The Trompe Of Trompe L'Oeil"
The Rooms Upstairs
Three Areas Upstairs in Wyomissing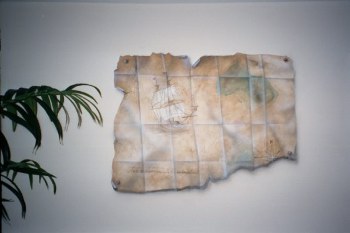 In The Bonus Room At The Top Of The Stairs, An Old Map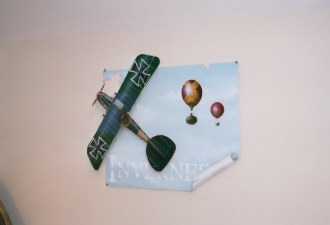 In The Boy's Room, An Aviation Themed Room With Hot air Balloons And Airplanes.
The Name Of The New Community Is The Title Of The Poster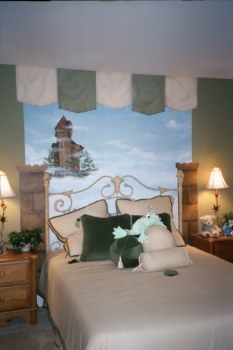 The Little Girl's Room, A Princess Bride, With A Castle In The Air...Complete With A Tromp' Window Treatment Over The Mural To Match The Existing One.
---
Art Effects' Home
| ||
Site Contents
| ||
Contact Us
An Artist
| ||
Trompe L'Oeil
| ||
Murals
Hand Painted Furniture
| ||
Children's Rooms
| ||
Theme Rooms
Wall Textures
| ||
Faux Finishes
Wildlife Murals
| ||
BUBBLES
Special Links
Step by Steps and How To's

Paper 'Plique | || The African Mural
Textured Stencil | || Faux Fossil Rock
Marble On A Ceiling | || In The Back Yard | || Wyomissing
How to Break a Wall | || Our Message Board
Please visit the internet's most frequented faux painting and murals message board!
---
Vote for Art Effects at Top-25.com
Copyright 2002 Art Effects. All Rights Reserved.
Questions? Comments? Suggestions? Email the
webmaster