"We Put The Trick In The Trompe Of Trompe L'oeil"
Wyomissing Step By Step

Mural Designed and Painted by Art Effects, Tim Haas and Linda Cassels-Hofmann
Please allow time for all the pictures to load, Thank You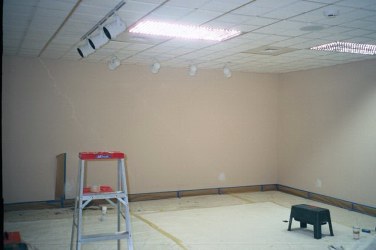 The Wall in the basement...It will be the office for Realtor in the community.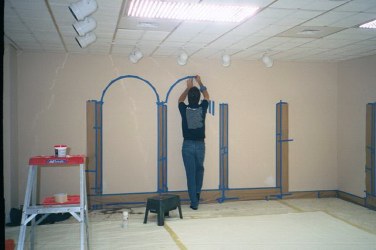 We'll be painting renderings of the actual houses for sale on the wall...trying to capture the surroundings of the country side. We decided to contain our mural within arches for an added effect.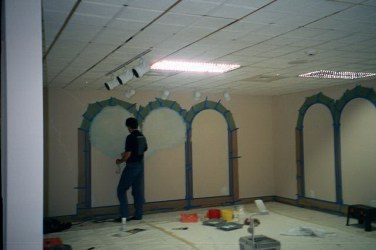 We paint our background using a woolie.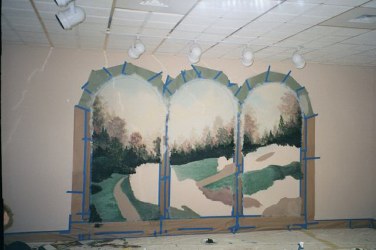 The Trees are blocked in with a sea sponge and we lay out a base for our landscape.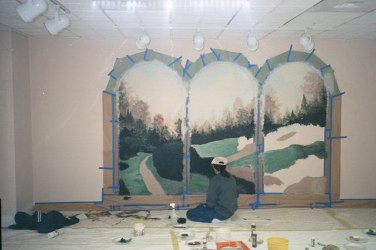 Once all our base is filled in we start the details, grass, background trees,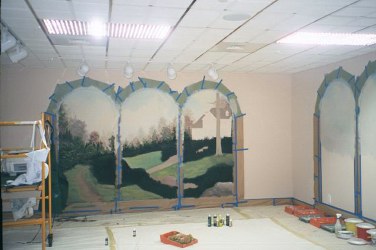 and then start moving into the foreground.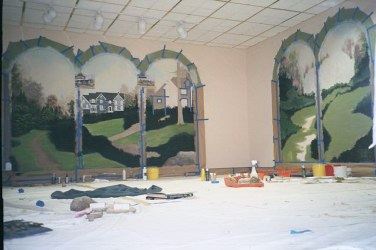 Trying to work on both walls at the same time to keep the work consistent.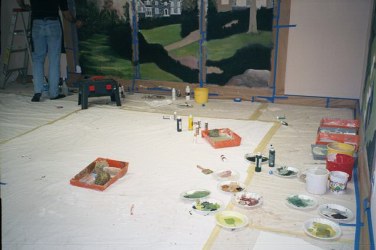 TIP: No matter how long it takes before starting the job cover your working area, and secure your drops so tripping want occur. You have to think about the future days on the job, you'll probably working in the area for a several days.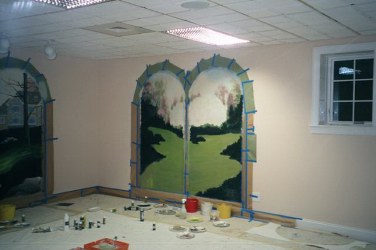 We are amazed at every job at how much stuff we need to complete the project.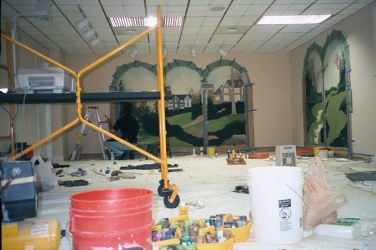 As the job Progresses, more detail is added, which requires more stuff.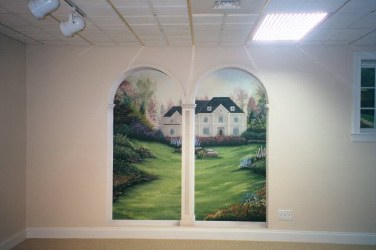 Details, down to the colors of the house and the shingles.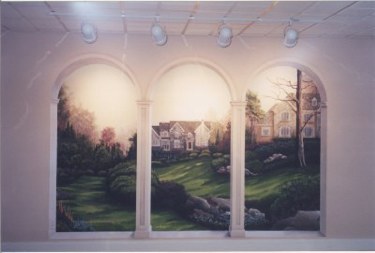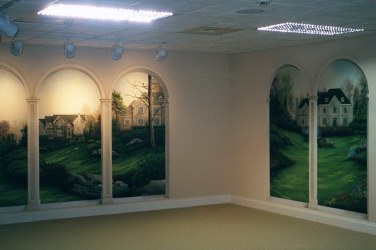 So these are For Sale...Houses in the rolling hills of Wyomissing, Pennsylvania.
---
Art Effects' Home
| ||
Site Contents
| ||
Contact Us
An Artist
| ||
Trompe L'Oeil
| ||
Murals
Hand Painted Furniture
| ||
Children's Rooms
| ||
Theme Rooms
Wall Textures
| ||
Faux Finishes
Wildlife Murals
| ||
BUBBLES
Special Links
Step by Steps and How To's

Paper 'Plique | || The African Mural
Textured Stencil | || Faux Fossil Rock
Marble On A Ceiling | || In The Back Yard | || Wyomissing
How to Break a Wall | || Our Message Board
Please visit the internet's most frequented faux painting and murals message board!
---
Vote for Art Effects at Top-25.com
Copyright 2002 Art Effects. All Rights Reserved.
Questions? Comments? Suggestions? Email the
webmaster