"We Put The Trick In The Trompe Of Trompe L'Oeil"

Windows And Doors

One Of Our Most Popular Requests Is To Paint A "Fake" Window Or Door
Therefore Our Collection Of Windows And Doors
Makes Up A Huge Part Of Our Trompe L'Oeil Portfolio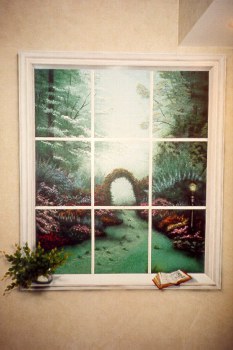 One Of The Most Requested Spots...A Hall Or Guest Bath, With No Window of It's Own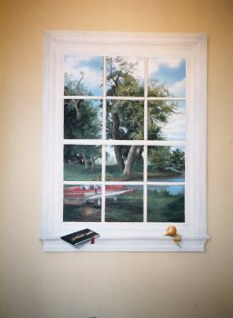 We Try To Add Little Personal Touches...Like The Clients' Plane
His Log Book And An Orange (since oranges are his business)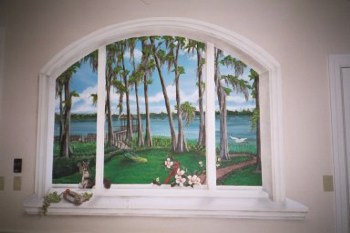 This Is The Actual Scene From The Clients' Rear Window...
We Like the Hungry Squirrel, Eyeballing The Bowl Of Grapes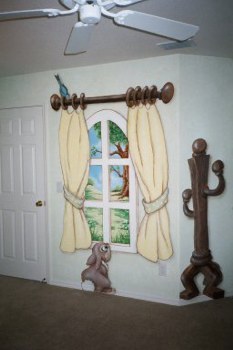 Not everything Has to Serious
To see some more examples of Trompe L'Oeil follow the links below.
---
Art Effects' Home
| ||
Site Contents
| ||
Contact Us
An Artist
| ||
Trompe L'Oeil
| ||
Murals
Hand Painted Furniture
| ||
Children's Rooms
| ||
Theme Rooms
Wall Textures
| ||
Faux Finishes
Wildlife Murals
| ||
BUBBLES
Special Links
Step by Steps and How To's

Paper 'Plique | || The African Mural
Textured Stencil | || Faux Fossil Rock
Marble On A Ceiling | || In The Back Yard | || Wyomissing
How to Break a Wall | || Our Message Board
Please visit the internet's most frequented faux painting and murals message board!
---
Vote for Art Effects at Top-25.com
Copyright 2002 Art Effects. All Rights Reserved.
Questions? Comments? Suggestions? Email the
webmaster