"We Put The Trick In The Trompe Of Trompe L'Oeil"
Art Effects Presents
"The Monkey Room"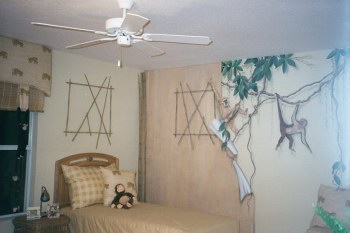 "The Monkey Room"
This Room In A Model Home..."Just Paint Something With Monkeys"
The Bamboo Hanging On The Far Left Wall Is Real, There Was One Hanging Over each Bed.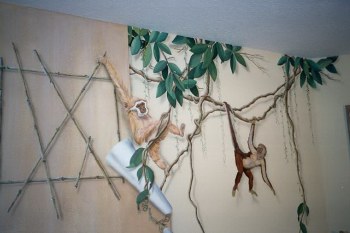 We Painted A Matching Bamboo Piece On Our Torn Faux Wall,
For A Little Extra Added Effect.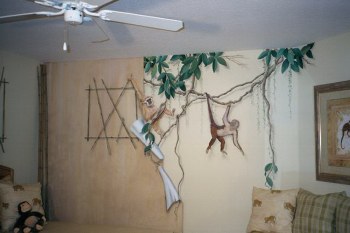 "justa a swingin"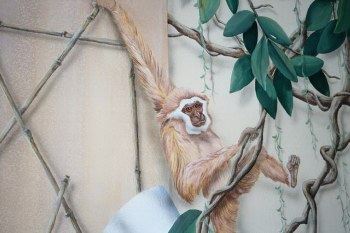 Its A Givin Its A Gibbon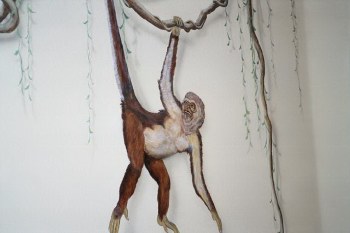 A Little Spider Monkey
For more Rooms with Themes follow the links below.
For more Murals follow the links below.
---
Art Effects' Home
| ||
Site Contents
| ||
Contact Us
An Artist
| ||
Trompe L'Oeil
| ||
Murals
Hand Painted Furniture
| ||
Children's Rooms
| ||
Theme Rooms
Wall Textures
| ||
Faux Finishes
Wildlife Murals
| ||
BUBBLES
Special Links
Step by Steps and How To's

Paper 'Plique | || The African Mural
Textured Stencil | || Faux Fossil Rock
Marble On A Ceiling | || In The Back Yard | || Wyomissing
How to Break a Wall | || Our Message Board
Please visit the internet's most frequented faux painting and murals message board!
---
Vote for Art Effects at Top-25.com
Copyright 2002 Art Effects. All Rights Reserved.
Questions? Comments? Suggestions? Email the
webmaster