"We Put The Trick In The Trompe Of Trompe L'Oeil"
Bubbles
Gandy Pool Mural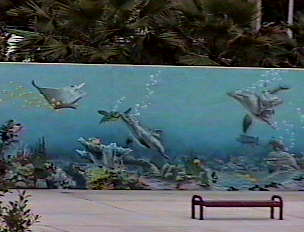 This is just a glmpse of the mural titled "Bubbles" at the City of Lakeland,
Kelly Recreation Center.
It is approximately 75 feet long and 12 feet high.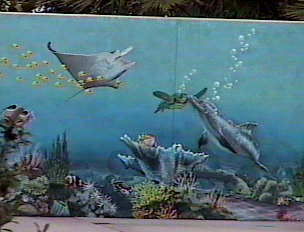 Created and painted by Tim Haas of Art Effects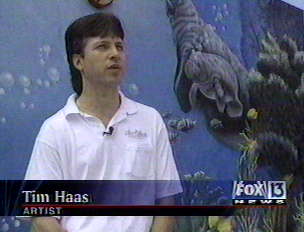 Everything was handpainted and then highlighted and shaded with an airbrush, including the background.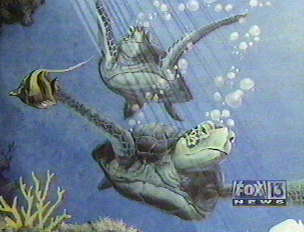 "The Artist" formally known as the "unknown" artist
This is just one of the 72 fish.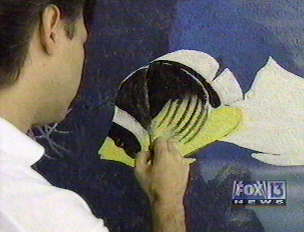 Today (3/20/2000) on our local News Fox 13 out of Tampa,
Tim was featured not once but they reran the story the next hour.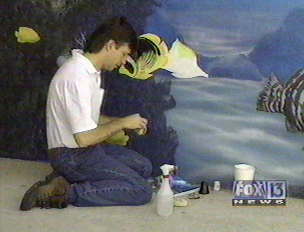 Normally his work area is not this neat. But hey its TV.
For A look At Some Of Our Other Murals Please Visit the Links Below.
---
Art Effects' Home
| ||
Site Contents
| ||
Contact Us
An Artist
| ||
Trompe L'Oeil
| ||
Murals
Hand Painted Furniture
| ||
Children's Rooms
| ||
Theme Rooms
Wall Textures
| ||
Faux Finishes
Wildlife Murals
| ||
BUBBLES
Special Links
Step by Steps and How To's

Paper 'Plique | || The African Mural
Textured Stencil | || Faux Fossil Rock
Marble On A Ceiling | || In The Back Yard | || Wyomissing
How to Break a Wall | || Our Message Board
Please visit the internet's most frequented faux painting and murals message board!
---
Vote for Art Effects at Top-25.com
Copyright 2002 Art Effects. All Rights Reserved.
Questions? Comments? Suggestions? Email the
webmaster