"We Put The Trick In The Trompe Of Trompe L'Oeil"

The African Mural Step by Step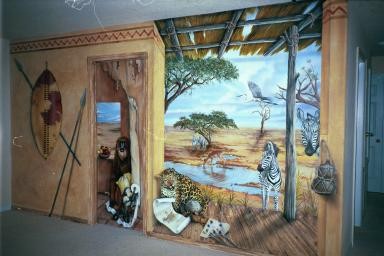 One Wall Approximately 13x8
In The Family's Bonus Room.
"What Do You Want?"
"Something To Do With Africa!"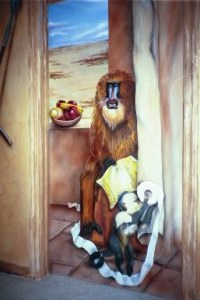 Okay But What About The Bathroom Door?
(Notice the doorknob is a pear...
of course we had to put a bowl of fruit in the window,
how else could we hide the knob?)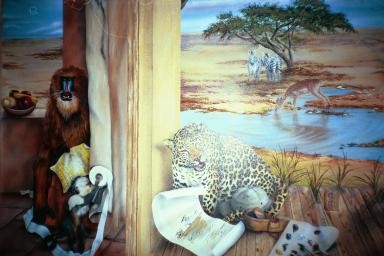 The Story...
The Resident Mandrill (taking care of business)
Is Reading The Local Paper.
The Headlines Actually Read...
"Warning Man-Eating Leopard On The Prowl, Two Artist Missing!"
Okay We Aren't Really Missing!
*Notice The Baby Zebra Saw What Really Happen*
To See Our Step By Step Album Of This Mural Click Below
Follow the links below for more of Art Effects' Murals.

For more Rooms with Themes follow the links below.


---
Art Effects' Home
| ||
Site Contents
| ||
Contact Us
An Artist
| ||
Trompe L'Oeil
| ||
Murals
Hand Painted Furniture
| ||
Children's Rooms
| ||
Theme Rooms
Wall Textures
| ||
Faux Finishes
Wildlife Murals
| ||
BUBBLES
Special Links
Step by Steps and How To's

Paper 'Plique | || The African Mural
Textured Stencil | || Faux Fossil Rock
Marble On A Ceiling | || In The Back Yard | || Wyomissing
How to Break a Wall | || Our Message Board
Please visit the internet's most frequented faux painting and murals message board!
---
Vote for Art Effects at Top-25.com
Copyright 2002 Art Effects. All Rights Reserved.
Questions? Comments? Suggestions? Email the
webmaster