"We Put The Trick In The Trompe Of Trompe L'Oeil"

Faux Tiled Ceiling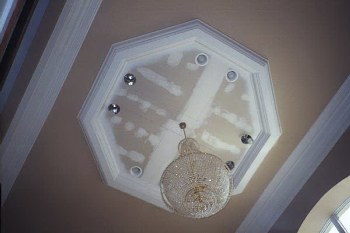 Its Way Up There...
We Wanted To Make It Look Like The Marble On The Floor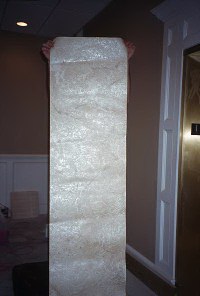 We Fauxed Several Rolls Of The Paintable Wallpaper
HINT: Several Rolls So The Tile Once It Is Cut Has A Variation
We Made Several Piles ...Light, Dark, Veiny
So We Could Keep The Ceiling From Looking The Same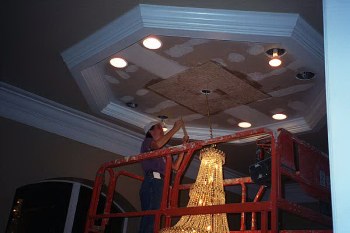 Then We Laid Out The Ceiling...Just Like A You Would A Floor
Cut The Paper Into Squares And Applied Them With Wallpaper Paste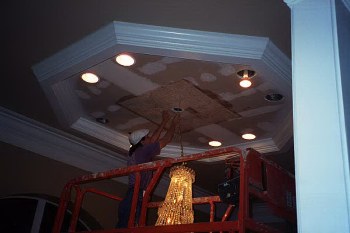 Here I Was Getting Ready To Apply A Medallion Made From The Same Paper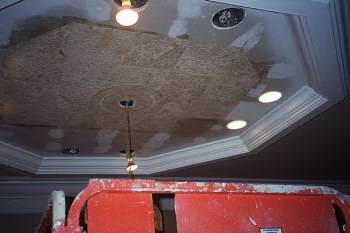 Since The Floor Had A Black Border Around The Room,
We Used A Paintable Border For Our Accent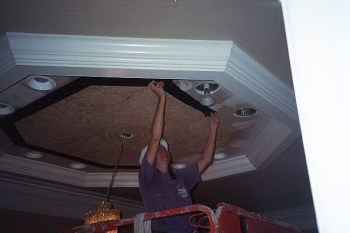 Okay I Don't Have Pictures of The Finished Product Yet...
Stay Tuned...Sorry
To See A More Elaborate And Expensive Ceiling Click Below
---
Art Effects' Home
| ||
Site Contents
| ||
Contact Us
An Artist
| ||
Trompe L'Oeil
| ||
Murals
Hand Painted Furniture
| ||
Children's Rooms
| ||
Theme Rooms
Wall Textures
| ||
Faux Finishes
Wildlife Murals
| ||
BUBBLES
Special Links
Step by Steps and How To's

Paper 'Plique | || The African Mural
Textured Stencil | || Faux Fossil Rock
Marble On A Ceiling | || In The Back Yard | || Wyomissing
How to Break a Wall | || Our Message Board
Please visit the internet's most frequented faux painting and murals message board!
---
Vote for Art Effects at Top-25.com
Copyright 2002 Art Effects. All Rights Reserved.
Questions? Comments? Suggestions? Email the
webmaster