"We Put The Trick In The Trompe Of Trompe L'Oeil"

Break Aways

Here Are Some Other Examples Of "Break Aways".
These Can Be Done Over Anything, Like A Simple Faux, Bricks Or Blocks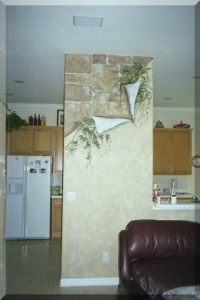 Here Is A Torn Paper Break Away Or Peel Away
Here You Have A Little Of Both...
A Peel Away On One Side And
A Break Away On The Other
By Creating An "Effect" Such As These
On An Accent Wall You Can Add A Lot To A Room.
We Do This To Keep A Job Within A Specific Budget And Still Are
Able To Give Our Customer More Than They Ever Expected.
Click Below To See How You Can Add One Of These "Effects" To A Mural
We Cheated A Little Bit On The Job Below...
Using Joint Compound, We Applied A Texture,
Leaving Areas Untouched To Paint Our Stones.
*A Natural Break Away*
Follow This Link To Simple Methods Of Texturing
With Joint Compound.
On This Job We Had The Textured Break Away
Over Our Faux Stones
Which Were Breaking Away To The Outside.
By Doing This We Opened Up A Narrow Foyer.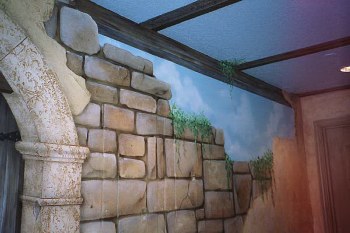 To see some more examples of Trompe L'Oeil follow the links below.
---
Art Effects' Home
| ||
Site Contents
| ||
Contact Us
An Artist
| ||
Trompe L'Oeil
| ||
Murals
Hand Painted Furniture
| ||
Children's Rooms
| ||
Theme Rooms
Wall Textures
| ||
Faux Finishes
Wildlife Murals
| ||
BUBBLES
Special Links
Step by Steps and How To's

Paper 'Plique | || The African Mural
Textured Stencil | || Faux Fossil Rock
Marble On A Ceiling | || In The Back Yard | || Wyomissing
How to Break a Wall | || Our Message Board
Please visit the internet's most frequented faux painting and murals message board!
---
Vote for Art Effects at Top-25.com
Copyright 2002 Art Effects. All Rights Reserved.
Questions? Comments? Suggestions? Email the
webmaster