Stencil #1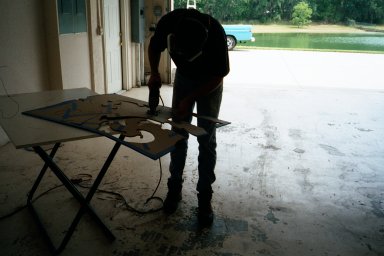 We used heavy construction grade cardboard to cut our stencil. The joint compound we were using for our releif was very wet and heavy, therfore we had to use a material that could withstand the abuse. Since we had to go all around the whole room and repeat the stencil numerous times, we made exact duplicates of the stencil so we wouldn't have to keep cleaning after every application.

We just attached 4 to 5 pieces of card board togather and cut them all out at the same time with a jigsaw.


---
Art Effects' Home
| ||
Site Contents
| ||
Contact Us
Paper 'Plique
| ||
Trompe L'Oeil
| ||
Murals
Hand Painted Furniture
| ||
Theme Rooms
| ||
Wall Textures
Faux Finishes
| ||
The African Mural
| ||
Special Links
Leopard Key
| ||
BUBBLES
| ||
Garage Doors
Step by Steps and How To's

An Artist | || Textured Stencil | || Faux Fossil Rock
Marble On A Ceiling | || In The Back Yard | || Wyomissing
Our Message Board | || How to Break a Wall
Please visit the internet's most frequented faux painting and murals message board!
---
Vote for Art Effects at Top-25.com
Copyright 2002 Art Effects. All Rights Reserved.
Questions? Comments? Suggestions? Email the webmaster